---
To provide better processing flow and flexibility for CCD commercialization, the new submission system is at your service now (updated on 2007/11/01). Please go through the updated items in the "Submission Form" and get the results in your "Preview Page". (Note: All the new items are highlighted as blue in the following illustrations.) Here we use "iClone - G2 Texture" as an example to introduce the new system. You can follow the same rule to submit other categories of contents.

Submission Form (1) Basic Pack Info

A3-1: If you want to redirect viewers to your website from author/company name, you should complete this filed.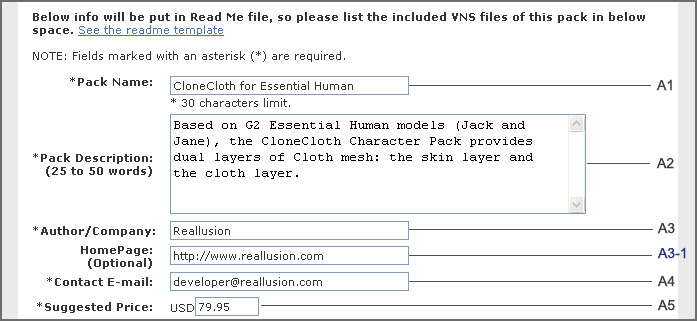 Submission Form
(2) Pack Inclusion
B2-1:
In general, the contents you have submitted are "Mid Polygon Size" and "Mid Texture Resolution". You can also check out the meanings of these icons to well define your contents.
B2-2: There will be corresponding icons displayed after you fill the quantities of some types.
B2: You will also get text messages to help you clarify the details of your pack inclusion. (*The shoes of the cloth set are textures files made by CloneCloth, and the other shoes will be submitted as vns files.)
B3: You should tell viewers which contents are NOT included in the pack image because you may use some extra contents to display your pack.
B4: Since G2 base models (Character .vns) will not be included in your pack, you have to tell them what the requirement is to purchase your textures.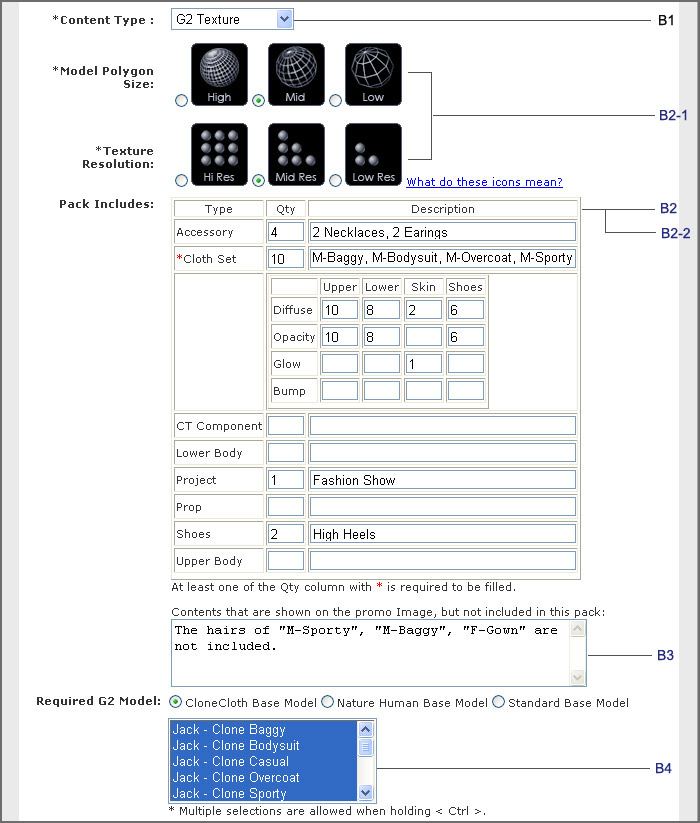 Submission Form
(3) Promotion
C4:
You can upload at most 10 extra images to promote your pack.
C5:
If you get a content video trailer to present your pack, you are welcome to fill in the embedded code here.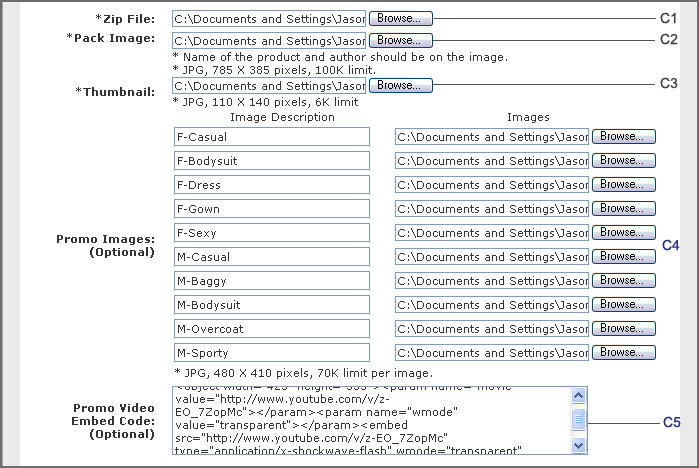 After filling out the submission form, please click "preview" button to see the result. You can also click "back" to edit your messages. Then, you can click "upload".